The man at the right there with the guitar and the cigarette is Frank Vincent Zappa (December 21, 1940-December 4, 1993). He was an original composer whose work spanned from jazz to classical to rock and in general defies categorization. He ignored the distinctions between high-brow and popular music and left behind a legacy of over 60 albums (most available on Rykodisc). As a musician, he made a name for himself as an incendiary guitarist and tireless performer. He was also a satirist for whom no cow was sacred and no ox to be left un-gored.

I first encountered his music at the tender and impressionable age of 16. At that point in my life something in me resonated with the work of this extraordinary artist. Over the next 30 years, I have continued to listen and resonate until I reached my current level of maturity and sheer perversity!


In the popular mind, he is perhaps best known for music that is bawdy, even obscene, and thoroughly incomprehensible. Well, what do you expect from the 'popular mind?' The neat thing about the 'popular mind' is that it gets made up without the intervention of intellect! Isn't that cool? It means that most peoples' minds are made up for them. Now that's a real labor saving device, eh?

Frank died in his home on December 4, 1993 after a long illness. Tyrants, religious fundamentalists, politicians and small minded individuals of every race, creed, nationality, species and planet of origin rejoiced. I don't mind admitting that I wept and that even though I doubt he would welcome it, I pray for his soul every night.


All humanity has been palpably impoverished by the loss of this singular, creative, and original mind.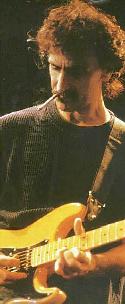 Check out some of these links dealing with the life and work of Frank Zappa:

Loathsome Frank Zappa World Wide Web Links

Zappa Lyrics

Come to the Zappa Chat Room!

1972 Interview

Guitar World interview 1982

FRANK ZAPPA on Everything

Here is a very long 1987 interview with Frank conducted by some Canadian sycophants that covers a broad range of subjects from politics to art to time travel to sex to MUSIC and just about everything in between. Plan to spend some time with this. It's worth reading.

Frank Zappa Interview in Playboy, May 5, 1993.

Want to know what Frank said to Congress about the Parent's Music Resource Center, censorship, and rating of records?

How about some REVIEWS?

Articles and Interviews with FRANK up the grand wazoo! (courtesy of St. Alpnozo's Pancake Breakfast)

Please take a moment to

Sign My Guestbook

View My Guestbook